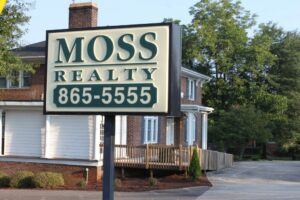 One of the Trusted Realty Companies in Gastonia, NC
Moss Realty is one of the realty companies in Gastonia, NC that is part of the Carolina Multiple Listing Service (CMLS). We have been serving Gaston and surrounding counties for over 30 years. In addition, we are very active in Belmont, Mount Holly, York, Kings Mountain, Shelby, and Rock Hill.
Here are just a few reasons to choose Moss Realty:
Customer Satisfaction
Moss Realty has flourished as a result of its continued attention to customer satisfaction. We believe that there is a "Home for Everyone" as long as we continue to listen and put their best interest first. Whether you are looking for new, used, or custom-built property, that "Special" home is waiting just for you. We also have agents specializing in lakefront, commercial, acreage, and even farm homes.
Ease of Transaction
Buying or selling your home is a life-changing decision, a choice that'll stick with you for a long time. With this in mind, we promise to make your experience pleasant and hassle-free, with no surprise hoops to jump through. We do that for you!
Proven Track Record
Our clients boast of our professionalism, hard work, customer focus, and integrity.
Vast Knowledge of Gaston County and ALL Surrounding Areas
Due to years of experience and thousands of transactions, we are prepared to service every neighborhood, community, city, town, and county.
Communication
You will constantly be informed of all activities on your behalf. Thanks to your Personal Agent, a staff of 10+ Professionals, and the Personal Touch you receive, you can guarantee that no questions will be left unanswered. You're also free to tour our beautiful facilities when you have a chance.
Loan Programs
Because of our years of professional ethics, national and local banks, as well as brokers, take pride in offering our customers programs that may not be available through another agency.
Location
We are conveniently located in Gastonia, where we serve North and South Carolina, Gaston, Mecklenburg, Lincoln, Cleveland, and York Counties.
Call Moss Realty today if you're looking to buy or sell your property. We are proud to be one of the most reputable realty companies in Gastonia, NC, and we'd be happy to help you accomplish your needs. Our team uses extensive real estate tools and resources to get you the best deal for your property. Contact our realtor in Gastonia, NC now to set up an appointment.